About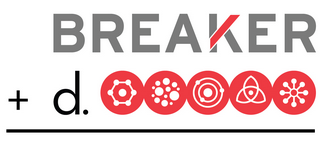 Project Breaker and the d.school's K12 Lab Network began collaborating in 2013 to bring design-driven social entrepreneurship challenges to a wider audience of young people and educators through a digital platform. This website is a prototype for challenge-based hybrid learning. We ran the pilot of this hybrid Breaker Challenge for 14 days in Summer 2013. In addition to online teams using this site, teams in facilitated studios in Detroit and New York joined the challenge. It was also run in Summer 2014 in Portland, Oregon and Boise, Idaho. The Future of Stuff Challenge is a great introduction to design thinking and social entrepreneurship. We encourage people to continue to use the use the resources, try the challenge and build on it in ways that suit your needs.
If you're excited about this kind of learning, keep an eye on the Project Breaker homepage for news about next year's Breaker challenges. If you're interested in design thinking education, check out the Stanford d.school.
About Project Breaker
In May of 2011, a group of 15 young, interdisciplinary minds came together in New York City to address the rise of functional illiteracy. With the guidance of industry professionals and the support of facilitator, Juliette LaMontagne the team designed digital tools to improve literacy rates among early adolescents. For some participants, those products became startup ventures; all left having developed a capacity to innovate. From this test pilot, Project Breaker followed: issuing challenges in emerging industries or opportunity spaces; convening teams of young doers from diverse backgrounds; teaching design thinking as a means of creative problem-solving, and tasking them with designing a profitable solution that is both good for the people and good for the planet.
About the d.school and its K12 Lab Network
The Hasso Plattner Institute of Design at Stanford was founded in the School of Engineering in 2005 to prepare a generation of innovators to tackle these complex challenges. Known on campus as the d.school, the institute brings students and faculty from radically different backgrounds together to develop innovative, human-centered solutions to real-world challenges. The transformative experiences of students and faculty have fueled the d.school's explosive growth. As part of that growth the d.school's K12 Lab Network was formed in 2007 and its mission is to build the creative confidence of young people.